The winners of the annual raffle in aid of gorilla conservation have been drawn in London
The 2019 Great Gorilla Raffle has been drawn, with more than £15,000 raised to help fund gorilla conservation projects in Africa.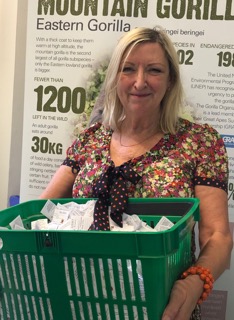 Three lucky winners took the prizes this year, with participants entering from all over the country.The second place winner, Mr Grandison from Lincolnshire stated, "I think it's important to protect gorillas as I feel the more we damage the forest and gorilla habitat, the more it affects all of us"
Executive Director of The Gorilla Organization, Jillian Miller (right), drew this year's raffle at the charity's London headquarters. She said: "Once again, our supporters have shown just how generous they are. The Great Gorilla Raffle has become a real fundraising favourite and all the money raised will be put to good use where it makes the most difference to the gorillas."
The winners have been notified and will soon be receiving their prize money.
Thank you to everyone who participated and contributed to funding frontline conservation and development projects in Uganada, Rwanda and DR Congo.